Arts & Sports Camp – July 7th-11th, 2019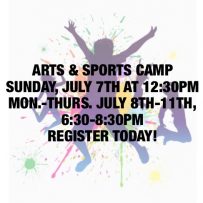 Arts & Sports Camp – July 7th-11th, 2019
All kids ages 5yrs-5th grade are invited to join our Arts & Sports Camp.
We are providing Fine Art, Ballet, Soccer, & Basketball Classes.
Registrations can be found at the church or by calling the church office: 330-499-3818.
There is a $20 registration fee for each student. (Which includes a t-shirt & supplies.)
Sunday, July 7th at 12:30pm, we will host a lunch for your kid(s) and family. We will introduce the classes instructors and will pass out t-shirts.
Monday-Thursday, July 8th-11th from 6:30-8:30pm, there will be the chosen classes along with bible time, snacks, music and fun!!!
Canton Grace Church
6283 Market Ave. N.
Canton, OH 44721
330-499-3818