Wow! Women of the Word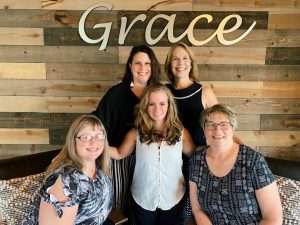 Wow! is changing hearts, changing lives, one woman at a time!
Wow! Women of the Word is a women's ministry designed to be Christ-centered, relationship building, relaxing and fun! Jesus is at the center of all of our activities and building genuine friendships is a top priority. We have a regular weekly Wed. night Bible study that begins in early Sept. and ends in mid-June. We host many Wow! events through the school calendar year that provide extra opportunities to learn new skills, serve others in our church and community and just provide time to hang out! If you have any questions, call 330-499-3818 and we will get back to you!
Current Study: Women of the Word are Wednesday's at 7:00pm
Women of the Word would like to invite you to join us for our next four week Bible study entitled, "Get Out of Your Head: Stopping the Spiral of Toxic Thoughts," by Jenny Allen. Kristy P. will be our teacher. This study starts on October 20th.
"Stopping the spiral of toxic thoughts. In Get Out of Your Head, a six-session video-based Bible study, Jennie inspires and equips us to transform our emotions, our outlook, and even our circumstances by taking control of our thoughts. Our enemy is determined to get into our heads to make us feel helpless, overwhelmed, and incapable of making a difference for the kingdom of God. But when we submit our minds to Christ, the promises of goodness of God flood our lives in remarkable ways."
We will continue each Wednesday evening at 7pm and will be meeting in the sanctuary to watch the DVD. Large group discussion and small group prayer time afterward too! We look forward to seeing you!
Women of the Word!
Canton Grace Brethren Church
6283 Market Ave. N.
Canton, OH 44721
Questions Call: 330-499-3818